Who or what are Calliope mini Experts?
We want to give every child in Germany playful access to the digital world so that they can actively help shaping the future. To help us achieve this goal together, we have launched the "Calliope mini experts" program. Interested educators as well as media representatives and teachers from various types of schools and universities are welcome to participate in the program. The idea: to create a community of thoroughly trained educators who will bring the necessity of early, digital education into the schools - the future "Calliope mini experts" !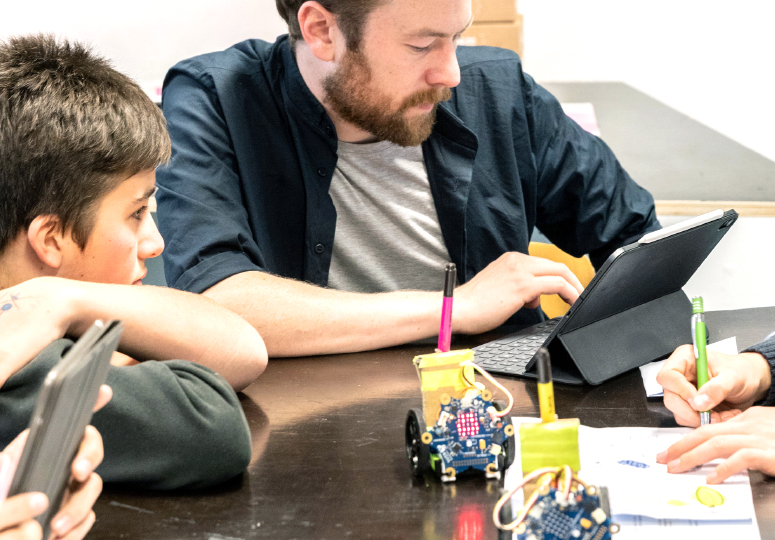 What is to expect?
For five months, you will have the opportunity to exchange and work with all the other participants to collaboratively develop, test, and evaluate creative ideas.
Together we will start with three online sessions in September/October, where you will get all the important tips, information and materials for working with the Calliope mini. In subsequent monthly online sessions, you are invited to share your experiences, ideas and concepts with the participants of the program.
We will support and guide you 5 months with introductory training, monthly online conferences, a presentation kit to host your own webinars and workshops with other educators and students, and of course Calliope mini starter boxes.
Who can participate?
We welcome all registrations from educators and media representatives who feel addressed!
Important: You do not need to have any prior knowledge of the Calliope mini or programming. However, we would be happy if you are already actively working on promoting the digital creativity of children.
Join us, contribute your ideas and become part of a cooperative network!
For details about the program, call +49 (0)30 4849 2030 or simply send an email to info@calliope.cc.