Story
Pump Up The Volume
The Calliope Mini has a built-in "loudspeaker", but in some cases it is too quiet. With a simple paper clip and two crocodile clips you can connect the Calliope mini (rev4) to a simple jack plug of an active loudspeaker or headphones.
Connector of the Calliope mini
In the lower part of the Calliope mini there are 2 rows of 13 "plug contact holes" each and above them a smaller row of 5 holes. The second hole from the left (if you look at the front of the mini) gives off the analog audio signals that are also sent to the internal "speaker".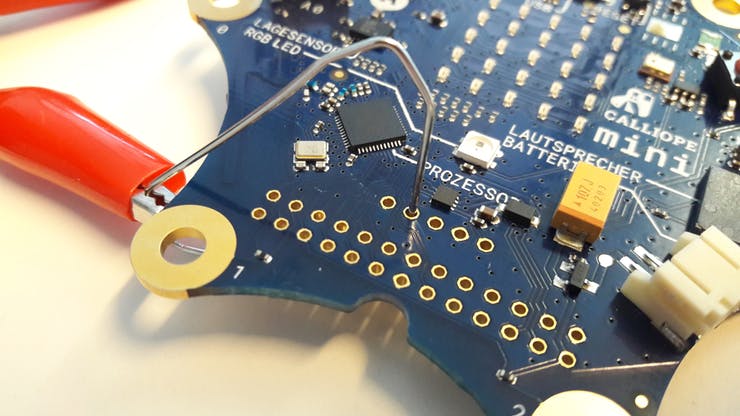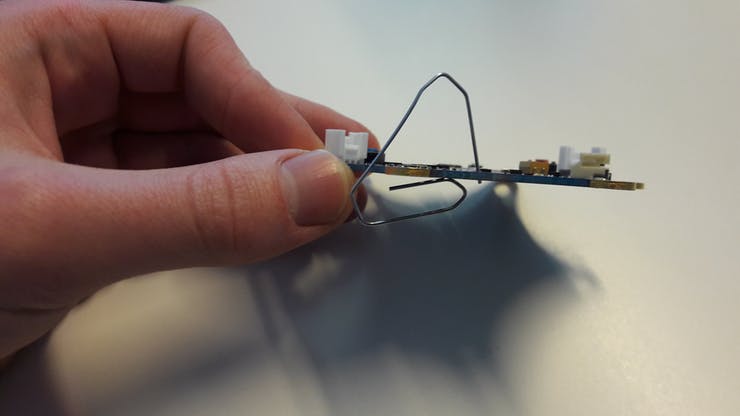 Unfortunately the holes are a bit too big to ensure permanent contact with the paper clip when simply plugging it in, so I only slightly bent the paper clip up and clamped it to the Calliope mini as shown above.
Connector at the jack plug
The tip of the jack plug must be connected to the Ground/Negative pin (the one with the - minus) of the Calliope. The other two contacts are each for the left and right audio channel of the speaker/headphone. One or both of these must be connected to the previously attached paper clip.
ATTENTION! LOUD! The volume cannot be adjusted with the Calliope mini, therefore I recommend to test the volume of headphones first without putting them on. With active loudspeakers I recommend to start on a low volume.
Of course you can also use something else than a paper clip and crocodile clips, these materials are only a simple and quick way of realization.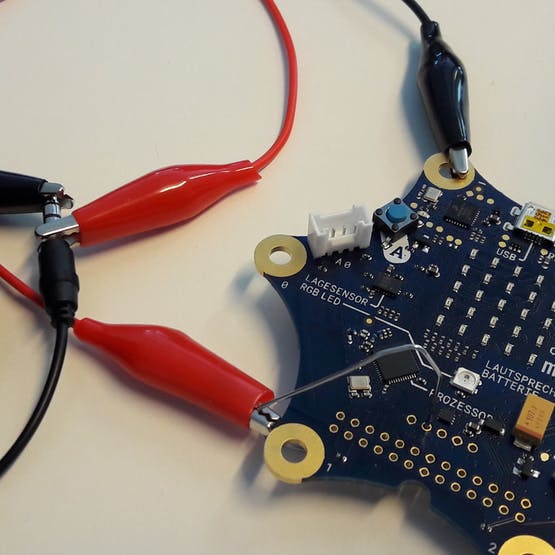 This text as well as the image is published under a CC BY-SA 3.0 DE license. It was originally published in German by Marian Mehling and translated into English by the Calliope team.